Lands Improvement and Houghton Regis (Linmere)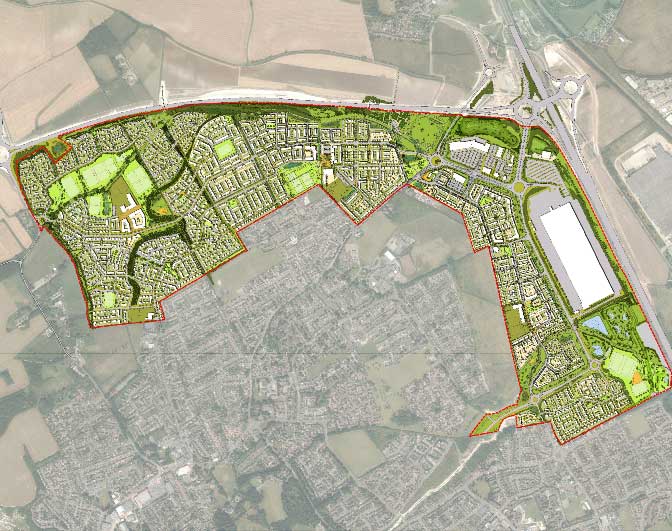 Since 2012 in aspireDM has provided development and project management support on a number of projects for LIH located at Apedale, Worksop, Peterborough, Shrewsbury, High Leigh and Houghton Regis.
Given that Houghton Regis is the LIH project probably being most relevant to Dunton Hills in terms of scale and challenges we provide a brief description of the assistance we provided to LIH over the period.
Size:
5,150 dwellings with community infrastructure.
1 million sqft mixed use retail, leisure, commercial hub.
1 million sqft logistics zone.
Duration of aspireDM appointment : 2012 to 2019.
aspireDM provided Development Project Management services to LIH, managing the project through the following workstreams:
Masterplan evolution, production and submission of the outline planning application.
Stakeholder and community engagement pre-planning.
Engagement with Central Beds Council pre-committee and negotiation of the Section 106 Agreement through to receipt of planning approval by CBC in 2015.
Support to LIH during JR challenge period through to receipt of unconditional approval in 2016.
Business Planning work to validate and support the commercial aspects and phasing of the approved scheme and formulation of the delivery plan.
Working with LIH and Savills to identify residential product / target markets / place identities and development sequence to inform early phase infrastructure scope and sales strategy.
Working with Savills to formulate an Estate Management Strategy.
Working with LIH to identify areas for early development of commercial / retail / community uses within the masterplan.
In undertaking the commission specific key challenges that the LIH and aspireDM team were able to meet were:
The provision of a flexible planning permission that provides freedom in location and quantum of development. The alignment of the scheme development programme with critical 3rd party enabling works, highways works including the new A5/M1 link and the planned sequencing infrastructure works was also crucial – as was the need on a site of this scale to generate contrasting identities and characteristics of Place within the scheme.
Formulation of a commercial, phased masterplan design which was optimised with regard to delivery of minimum initial infrastructure investment and in line with programme and commercial appraisal demands to maximise land buyer interest.
The planning process on this development was particularly complex and drawn out and a key role for aspireDM was in directing the consultant team and working with key stakeholders to maintain overall focus yet minimise project expenditure during this period.
What was achieved in the period was realisation of unconditional planning approval for a scheme of scale and complexity which was heavily reliant upon the delivery of the A5/M1 link by 3rd parties. Additionally the generation of a clear and concise plan for taking the first steps into infrastructure construction and plot sales set a platform, for the subsequent stages of infrastructure design / installation and plot sales that have successfully taken place to date.